How are Employee Portals Helping Businesses to Offer Great Employee Experience?
"Great things in business are never done by one person. They are done by a team of people."
— Steve Jobs
Employees are the driving force of any organization and the greatest asset for businesses. A motivated workforce can ideate better strategies, innovate pioneer solutions, and give optimum productivity and customer satisfaction.
On the other hand, an employee pool that lacks motivation and a sense of belongingness to the organization often tends to do monotonous work without bringing any innovation or innovative ideas to the table. Moreover, they also tend to quit for a better role elsewhere.
To prevent this from being the case in their business, HRs are adopting different practices to engage with their employees beyond basic work delegation. They are integrating technologies, such as modern SharePoint-based intranet solutions that can streamline workflow, documents, and communication beyond the standard intranet.
This creates a centralized and collaborative workspace for employees that simplifies their work, hence keeping them motivated to do more challenging tasks. In addition to that with the social elements of the employee portal software, they also feel enthusiastic and engaged, resulting in a good employee experience.
Wondering how businesses create such a perfect ecosystem for their employees? Welcome to modern employee portals.
What is an Employee Portal?
An employee portal helps manage workflows, centralize data and documents, and create a healthy collaborative social space for the employees in the workplace.
Lately with the rapid technological advancement businesses are opting for cloud-based workplaces like Microsoft 365 which they can integrate into their business, to share files and manage employee profiles. These workplaces can be further enhanced to communicate further personalized content with the employees.
It is where leading intranet platforms such as SharePoint allow businesses to manage their internal resources (employees, information, workflow, etc.) and external parties (customers, vendors, etc.) by enabling them to create different sites for the same. These employee portals also help them secure a place to store, organize, share, and access information from multiple devices or all primary browsers like Microsoft Edge, Internet Explorer, Chrome, and Firefox.
In short, a standard employee portal helps employees access documents, workflows, employee details, events, announcements, and communication within the organization conveniently throughout their employment cycle.
An employment cycle is as follows-
Onboarding
Development
Retention
Offboarding
The employee portal is then the central platform with which the employee engages daily to do their work effectively throughout their employment cycle. Therefore, it is crucial for businesses to integrate a platform that is easy to use and gives a great employee experience.
What are the benefits of Modern Employee Portals?
Organizations are increasingly integrating modern employee portals into the business, as they extend several benefits beyond the standard intranet portal framework, across all vertices such as –
1. Intensive Onboarding Support for Newly Joined Employees
Suppose your business is all set to induct fresh talent into the organization for diverse work roles. The employee portal on SharePoint simplifies this task by letting one post jobs on internal and external sites, schedule interviews, and make notes on the platform during the hiring process. One can also create an onboarding checklist to track all the activities that are done to complete the transition correctly. It also equips the newly onboarded ones with insight, news, announcements, an employee directory, a handbook, a corporate calendar, and more.
The information of employees can be organized based on their department and location. The well-elaborated organization charts help employees understand the organizational structure better, given the growing inclination of the workforce towards remote employment. They can also communicate and seamlessly collaborate with each other through Teams, Yammer, and more, all on this one portal.
With the advanced search functionality, employees can easily find their way around the company by searching for fellow employees, sites, documents, projects, and other details related to the organization.
Now if you have newly joined the organization and you do not know how to contact another team member you seek help from, do not worry. Just head to the employee directory where you shall get all the details needed to contact people across the organization quickly.
The modern employee portal on SharePoint helps improve the end-to-end support in the employment cycle, i.e., from the onboarding to the offboarding. It encompasses a complete expense and secured way of managing payroll.
For example, the Form Center can meet all the daily needs of the employees, be it approving or rejecting time off requests, out-of-office timing, expense reimbursement, purchase request, cheque requests, credit card, etc. They can also generate PDF files for the same. The forms have the flexibility of adding access and approval to item level, hence making it easy for departments to make more customized forms as per the employee needs.
2. Advanced Knowledge Base for Developing & Engaging the Workforce
One of the best ways to engage with employees than basic communication is by sharing knowledge. Making them aware of innovative ideas, trends, and innovations that are developing in the industry keeps their mind engaged and satisfies the young curious minds of the organization as well. Seeking their thoughts on the same is an effective way to create an interactive knowledge sphere in the organization.
Suppose you have a query about the policies of the company, well you made this query ago but have forgotten the solution. Do not worry! On the SharePoint knowledge base, previously frequently asked questions have become part of the knowledge repository on the portal. So, employees get to gain understanding and also clear their queries on a centralized front.
The modern employee portal creates a rich knowledge system for employees to empower themselves. For example, on the Wiki Center, one can read articles related to the latest innovations, research, job responsibilities, etc. for seeking insights into the latest developments in the company and in the industry.
In the current period, it is not just businesses that wish to be in tandem with the change and upgrade their operations. Through such knowledge sharing, if the company meets this goal of the employees, they shall be able to keep them contented. Upskilling the existing workforce also has several benefits for the business such as it saves further costs that they might have to incur in training them and onboarding new employees. Such engagement fosters a sense of belongingness and loyalty, resulting in a lower employee turnover rate.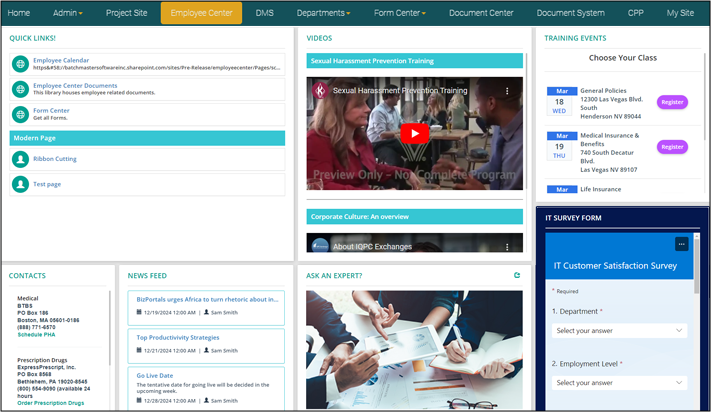 The platform is a self-service portal that enables employees to find their answers independently without having the hassle of contacting anyone personally. They can initiate requests and make contacts easily using the search functionality and other self-service features.
3. Better Engagement for Employee Retention
Recent Gallup reports have revealed that relying solely on a traditional intranet platform can lead to employee disengagement, with 51% of employees in such organizations considering quitting their jobs.
That is why organizations are integrating modern intranet solutions for their workforce that allows businesses to create more personalized and engaging content for their employees with its highly flexible framework. Such platforms streamline their work and keep them updated with all the latest developments in the organization. The platform becomes the central point of communication, collaboration, managing workflows, accessing documents and additional knowledge in an interactive manner, thus meeting the needs of all employees across all vertices.
Be it Microsoft Teams, Yammer, or other platforms from the integrated Microsoft 365 suite, the platform centralizes all channels that employees use for daily communication.
The modern employee portal can help newly inducted employees to find company-related news, announcements, employee directories, holiday calendars, employee handbooks, etc. in one place. For example, the HRs can create a creative space for employees where they can add presentations, lectures, training documents, and videos to enrich the knowledge of inquisitive and enthusiastic employees and upskill them. It provides a sense of upliftment, satisfaction and motivates them to take on more challenging responsibilities.
4. Advanced & Centralized Document Management System for Employees
Managing all documents, files, and folders is easy with the vast document library on the modern employee portal. It is a one-stop destination that stores all the documents of all the libraries on all sites. It also shows up the list of all the files and folders along with their key details like file type, author names, keywords, summary, etc. In addition to that, it also presents employees with a consolidated view of all the documents and files.
Suppose it is just another day in the office and you need to access documents for the new project you are starting but you do not know where to get all the needed documents for the project. Modern employee portal makes it extremely simple for you. All you need to do is search for the document in the Document Library using the keywords or go on the Project Site and click on the project regarding which you need the documents.
With a SharePoint-based document management system , creating, modifying, deleting, co-authoring, and downloading documents across all devices is seamless. One can allot role-based access to employees for the entire library, file, folder, and documents. Moreover, for improving the search, one also gets to tag the documents with meta descriptions, keywords, categories, and sub-categories.
The ability to merge multiple PDFs into one, convert multiple documents into a PDF, and add multiple files into a single folder for ZIP makes it extremely easy and efficient for employees to upload and store documents and information.
For example, using the check-in and check-out feature, employees get to co-author seamlessly on the same document without creating any confusion. Thus, the platform renders optimal collaboration that boosts productivity across teams.
With the help of the customizable calendar viewer, employees get a comprehensive list of their day-to-day activities, meetings, events, and more. One can add, view, edit, remove, and navigate through events as and when needed. This offers employees the flexibility to plan and prioritize their work.
5. Better Performance Evaluation for the Right Assessment of Employees
Through the modern employee portal, it is easier than ever to align employee goals with business goals using a dynamic appraisal system. One can add higher employee accountability, transparent communication, and a more productive employee pool with the self-assessment features of the portal.
Better evaluation means unbiased review and better growth. Therefore, the portal ensures that the productivity of an employee is reflected accurately, and that projects or tasks are in tandem with the actual progress of work done.
Using the modern employee portal, one can monitor and evaluate employee performance with pre-defined KPIs and get complete feedback from the employees in real time. The portal enables the review to be set as per the preferred periods (quarterly, half-yearly, and annually). In addition to that, it also enables streamlined follow-ups after those reviews in case an employee needs further training to fulfill their role.
For instance, with the Active Directory, adding new employees, removing ex-employees, and granting role-based access are easy. Once the onboarding is complete, the related forms can be changed easily to fulfill the needs of the employee as per their work requirement. Hence, making the employee experience unified as they must use a single window for all their workspace needs.
6. Automated Workflows that Boost Employee Productivity
Suppose you must create a new task for your team, so rather than creating it from scratch, you can simply use a preset template, fill in the specific details of the task, and it's done. You can create projects, tasks, grant access, and document in a simple, easy, and quick way with the automated and preset templates on the modern employee portal.
This helps employees get rid of piles of paperwork and makes the organizational operations truly digital resulting in better management of processes. It also saves the energy and time of the employees by automating everyday tasks so that they can channel that into more critical and strategic ones.
The SharePoint-based employee portal enables organizations to bifurcate between productive tasks and repetitive ones and automate them, saving considerable time for the employees. Rather, they can channel their energy and time to those tasks that require critical attention and ideation.
Through rapid automation, the platform also ensures that employees stay productive and do not get complacent or bored by monotonous work, rather they can deliver value in their roles. Thus, resulting in better retention and job satisfaction. Cumulatively it also helps in allocating the technical and human resources of the organization right.
The modern employee portal provides employees with an intuitive project management system on SharePoint. MySite is a personalized window for employees where employees can see all the tasks, requests, tickets, etc. assigned to them throughout the portal. The modern employee portal also offers exceptional flexibility with features such as scheduling tasks using Planner, Calendar, and To-Do lists, so that employees can prioritize their tasks on their own and bring more efficiency to their performance.
It has exceptional functionalities that automate processes like routing, reviewing, submission, and approval of forms, documents, applications, reminders, and notifications to users of tasks that are overdue, and the status of forms submitted. It also makes it easier for employees to track, assign, review, create, and change tasks so that they have complete independence in prioritizing their work. This instills a better sense of responsibility among employees.
For example, with the ability to create dependencies between the task and subtasks, one can save time by adding employees' access, every time they create a new task. Moreover, the portal also allows employees to create their projects using pre-defined templates where they simply must copy list and library data in the template, and their new project on the workflow is ready!
7. Streamlined HR Workflows for Right Redressal of Employee's Query
The modern SharePoint employee portal has a defined hierarchy with permission access at each level. It also manages operations with automated serial and parallel workflows. This ensures the right query, feedback, application, etc., is automatically rallied to the right personnel, and the status is reflected at once. This brings efficiency to workflow in terms of time and removes manual errors.
To keep up with the diversity of the organization and departments, the modern employee portal enables approval processes based on categories. For example, the finance department can altogether have a separate set of approvers for requests raised than the marketing department.
With the automatic reminders and well-laid-out reporting channel, the day-to-day admin processing gets automated, including the process of performance review. This eases the HR department so that they can concentrate on making better strategies to manage the company's human capital.
8. Improves Task Planning Done by Employees
With intricately integrated features of Power BI, the project dashboard has several indicators and tools for business analysis and strategies. Also, with tools like Gantt chart, Kanban board, KPI dashboards, whiteboards, stats, graphs, and interactive charts, employees can represent their plans better. The platform gives an immersive experience with the ability to capture the employee data that they must have filled in and publish it in the form of graphs. This improves task planning and makes the interface interesting for users.
The modern employee portal combines the business intelligence of the Microsoft 365 suite with the SharePoint intranet ecosystem. It provides insight to the teams to make decisions powered by data and intelligence that improve cumulative performance and later improve their review.
9. Comprehensive Employee Offboarding
When an employee separates from an organization after a large period, they part with much intellectual property in terms of trade secrets, knowledge, and experience. This can become extremely helpful for the newly inducted ones and this knowledge must be transferred to them so that the company is able to keep its most crucial asset, i.e., knowledge. The modern employee portal on SharePoint enables offboarding in the most seamless and efficient manner.
One can simply create an automated workflow for offboarding. From receiving the termination notice to creating a checklist for giving credentials, handing over documents and files, returning IT assets, training the new replacement, encashing leaves, to giving constructive feedback, the portal can streamline the offboarding process end to end.
For instance, on receiving a termination notice or resignation, HR can create a task for the employee in the form of a checklist to give all documents and complete procedures. The employee can also give a leave encashment form at the end of their tenure and put their suggestions both privately (for a specific person) or publicly, for everyone to see.
The HR can also roll out an announcement on the 'Focus On' widget for the offboarding employee and give them a platform to share their knowledge and experience on the Wiki centre.
Thus, the SharePoint employee portal gives optimal employee experience, be it from the stage of onboarding, development, and retention to the stage of offboarding.
Bottomline
While a traditional intranet platform merely stores documents and connects employees through a directory, the modern employee portal such as BizPortals 365 creates a complete support ecosystem for the employees. It offers advanced security, automated workflows, vast document management, and a flexible project management system in addition to centralizing communication and creating a collaborative and engaging workspace.
BizPortals 365 modern employee portal can be customized to the unique needs of your business and give impeccable employee experience and engagement to your team across diverse work roles, locations, and responsibilities.
So why wait?
Empower your business with automated, well-organized, credible, and unmatched competitiveness offered by BizPortals 365 modern intranet solutions.